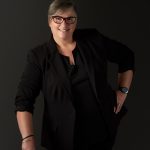 Tammy Bird can usually be found doing one of three things: writing, reading a book, or playing with a grandchild. She does her best writing in the local coffeeshop where she loves to people watch and imagine all of the darkness and light that resides in each person who crosses her path. Writing a novel was a lifelong dream that she thought would never come true.
Never say never, her dad always said. He was right. At 55, Tammy's first psychological thriller, Sandman, made her dream a reality.
Book of Promises, a YA psychological suspense, is her second novel. When she isn't writing, Tammy loves creating educational videos, eating ice cream, and hanging out with her wife and family.
If you want to know when Tammy's next book will come out, please visit her website at https://tammybird.com, where you can sign up to receive an email when she has her next release.