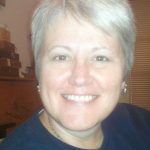 Nat Burns retired from a medical publishing career in Virginia and became a full-time novelist in 2007. Since then she has published fifteen novels with three different publishers.
During her ten years as a journalist, she won two Virginia Press Association awards, as well as honors from Writer's Digest, Muse Magazine, Writers in Virginia, The Virginia Writing Club, Piedmont Writing Institute and Writers of the Future. She taught journalism and creative writing as part of the Writers in Virginia program and worked with the Small Press Writers and Artist Organization for many years, serving one year as president. She currently writes a monthly column called "Notes from Nat" with a magazine in Los Angeles.
Since becoming a novelist, she won one Golden Crown Literary Award and was twice voted as a finalist. She also won the 2011 Alice B. Lavender Certificate for her novel Two Weeks in August. Her poem, "Womanwalk", won first place in the local Virginia Writing Club contest and third place in the VWC state competition, 2005. Other poems have appeared in dozens of publications, such as Lynchburg Magazine, The Wishing Well, Muse Magazine, Witness to the Bizarre, and Worlds of Surrealism. She won state honors for a short story, "The Road, The Rock", and was nominated for a Pushcart Prize for her short story "Diverse Delusions".
As an editor, Burns worked with VA NOW, Byrd Newspapers, County of Nelson, Hampton Roads Publishing and Carden Jennings Publishing. She has edited more than three dozen fiction and non-fiction books, many of them winning awards.
More information can be found at:
​www.natburns.org
www.natburns.com
www.facebook.com/natburnsworld
www.twitter.com/NattyBurns
www.instagram.com/nattyburns8
Email: natburnsworld@gmail.com