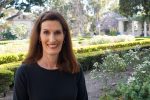 Lynnette has been telling stories ever since she was a child, but it was not until adulthood that she realized she wanted to pursue a career in writing. After earning degrees in English and film studies, she went on to get an MA in literature and an MFA in fiction writing. She's been a professor of creative writing, British literature, and composition for several years.
Her first novel, Just Beyond the Shining River, was a 2018 finalist for a Golden Crown Literary Society award for best debut novel. In addition to writing fiction, she writes narrative essays and academic papers. As a member of the International Virginia Woolf Society, she has presented papers at conferences in the US and UK.
When not writing or grading papers, she enjoys mountain biking, hiking, and ocean swimming. She does much of her revising and editing while sitting in a shady park or on the beach. She lives in a small coastal town in Southern California with her wife.