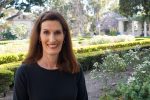 Lynnette has been telling stories ever since she was a child, but it was not until adulthood that she realized she wanted to pursue a career in writing. After she earned degrees in English and film studies, she went on to get an MA in literature and an MFA in fiction writing. She's been a professor of creative writing, British literature, and composition for several years.
Her first novel, Just Beyond the Shining River, was her MFA thesis and is the product of extensive research and time spent in England. Three study abroad trips gave her the opportunity to live as a Londoner and to get an ear for British dialect and nuances. This book was a Goldie finalist for best debut novel in 2018.
As a member of the International Virginia Woolf Society, she has presented papers at conferences in the US and the UK. Her stories and essays have appeared in a number of publications. Lynnette is also the author of the novels
Saving Sam
,
Caught Inside,
and
Uncharted Waters
(to be released in 2023). She
recently
spent a month as a writer in residence on the island of Molokai in Hawaii where she started to write her fifth novel–a historical romance set in Hawaii in the mid-1940s. When not writing or grading papers, she enjoys mountain biking, hiking, and ocean swimming. She lives in a small coastal town in Southern California.