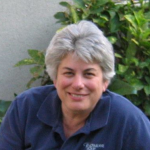 Jane DiLucchio is the author of two Southern California-based mystery series: Diega DelValle and Kate Matthews. A late-bloomer when it comes to writing, Jane spent many years as an educator, massage therapist, and backyard farmer before giving in to the little voices that kept sounding off in her head.
When not writing, Jane can be found digging in the garden, giving a massage, traveling the world, cooking, drinking wine, or reading with a cat in her lap. For the money-making portion of her life, she was a professor at a community college. She and her wife are the proud servants of a cat.
Email: jdmysteries@yahoo.com
Facebook: https://www.facebook.com/jane.dilucchio.mysteries
Reviews for Going Coastal
Guest Blog
Politics Make Strange Dead Fellows
Kate Matthews expected to face challenges when she was elected to the Santa Barbara City Council. She hadn't counted on her sister-in-law, Michelle, being one of them.
Kate understood that Michelle was mentally ill and periodically homeless. What she didn't understand was why Michelle turned up in Santa Barbara only to disappeared again—until the police announced that Michelle was wanted in connection with a murder.
Wading through the morass of Michelle's life in order to find out the truth while also handling Council politics and issues proves to be more complicated than Kate could ever have anticipated. When her wife and children become entangled in the quagmire, Kate finds out just how much she is willing to do to save her family.