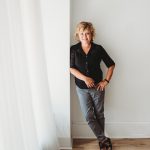 Barbara has been writing fiction in the psychic/supernatural, suspense/mystery, and horror/thriller genres since the mid-1970s. Her free time (when not writing, of course) is spent enjoying her wife, daughter, and any activities that involve being on, under, or near the ocean, for that is where she feels most in tune with her emotions.
Books by Barbara Valletto
Claire McCollum, an American Red Cross Volunteer, and Maggie Calder, a Captain in the USAF, discover love in war-torn Vietnam in the years prior to the Fall of Saigon. Stationed on an air force base in Southeastern Vietnam, the two band together to partake in a mission of mercy that defies the odds.
They are tasked with airlifting hundreds of Vietnamese orphans out of Saigon and transporting them to the United States. But disaster strikes when the first plane out of Saigon crashes. Claire survives and is left with trying to find out what happened to Maggie, and a young Vietnamese child they'd grown to love.
But the truth may not be what Claire expected, and knowing it may place beliefs she holds dear, in jeopardy.